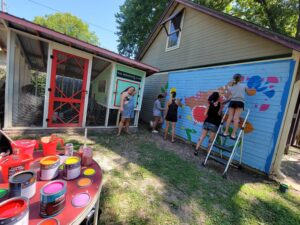 Why Murals?
The primary goal of this project is to bring art into College Hill beyond the homes and people. College Hill has many secondary alleys for trash and other utilitarian efforts. They're awesome for storing cars, but they can be more and we want more out of them. This art project will help feature the beauty AND creativity of College Hill and Topeka. The goal of this pilot project it get a larger, longer term mural project rolling over the next 5-10 years. Similar to many "activate the alley" efforts in urban settings, College Hill's efforts will add to the pedestrian nature and interest in walking and exploring our neighborhood on foot. Additionally we hope to interest Washburn University students to both participate in the mural process as well as come explore Topeka's neighborhoods by being adjacent to the University and an area that many students reside in while they're initially in Topeka to attend the University. This project stands to add artistic vibrance and culture as well as depth to the interest of College Hill and Central Topeka.

How is this all happening?
The CHNA would propose to start this project in College Hill, initially with four locations and add three to four annually with a goal to reach 20-25 garages with individual murals. Homeowners can opt to do this completely on their own, if they choose.  Each mural will be added to the listing maintained on the College Hill website and in social media posts featuring the process and artists. The costs of this project would include hiring an artist to design and take input from community members and the property owners to develop a concept. The project will then include costs for preparing the surfaces, and painting them with the appropriate paints and number of coats for a long-term mural. Many of the projects will provide opportunities for both neighbors as well as other potential neighbors (and Washburn University students) to participate in the painting of the murals. 
The mural located at Blooms on Boswell will serve as a neighborhood billboard and focal point (more than is already is!) and will have a "College Hill" postcard feel, much like the mural in NOTO's Rosebud Park.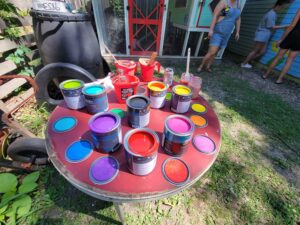 Why is it important for College Hill?
Central Topeka has some great art, in both sculpted and mural formats, in public spaces like the Langston Hughes mural at 12th and Lane.  This project will bring the arts back to an even more grassroots level in the neighborhoods. This also gives some who don't live in Central Topeka the reason to come relate and explore those neighborhoods, when they might otherwise have the impression that Central Topeka is filled with crime and lack of interest in maintaining our homes. This will facilitate an important conversation Topeka is having on availability of affordable homes and the quality or lack thereof that exists.
Further, we see this as an opportunity to grow into our adjacent neighborhoods of Central Park, Elmhurst, Chesney Park, Tennessee Town and beyond, through City SORT and other empowerment grants, to help our neighborhoods define their love of place and identity in their neighborhoods.
We believe this will be a positive move to enhance the value of our neighborhood and further define the special qualities of Topeka's historic neighborhoods and our neighbors that call it home.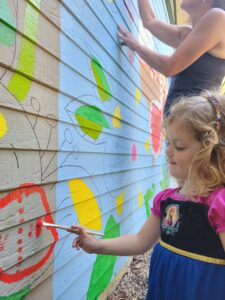 Who is impacted by these murals?
Based on walking patterns and movement from College Hill towards Randolph Elementary School and Robinson Middle School/ Central Park Community Center, the Census tracts from Randolph to Tyler Ave and 12th to 17th will be impacted most.  The focus will be in this area for the initial four projects. Future additions of murals will expand this reach and impact.
Currently the population is estimated at 5,300 based on the Census data, with 27% meeting the definition of poverty and 39% describing themselves as "non-White or of Hispanic/ Latino origin" (Census 2020).  Astonishingly, 46% of these folks fall within 200% of the poverty threshold. Finally, to highlight the impact on those walking, 12% of those households are listed at car free and 46% of households have 1 car.
This area walks. Murals for those that walk will enhance this place and they way they experience College Hill.
While College Hill is not a 501c3 itself, the College Hill Neighborhood Association (CHNA) is a member of the Community Resource Council (CRC). CRC allows for its 501c3 designation to be used in an umbrella fashion so that other nonprofits (as recognized by the state of Kansas) like CHNA are able to receive grants such as this.